Here you find the ways we can serve you.
We are living in Southern Sweden, but most of our services can be done remotely. We speak fluently both English, Swedish and Finnish and we help people world-wide.
Marcus sees himself as a New Age Shaman, he is very down-to-earth person, who has successfully married the polarities of physical and spiritual aspects of human construct. 
He has over 12 years of experience working with different healing modalities, such as OMT-Physical Therapy and energy medicine. His knowledge of curing pain, whether it is physical or emotional, is exceptional, and he is learning new skills every day.
Marcus is your inspirator and navigator to upgrade your life to the next level, free from pain, so that you get to live the best life possible. In his leisure time he loves to be with his family, travel, play golf and tennis, and of course there is nothing better than grilling in the sunshine with a cold beer. He speaks fluently Swedish, English and Finnish.
Read more about his treatments and book a time below.

Orthopedic Manual Physical Therapy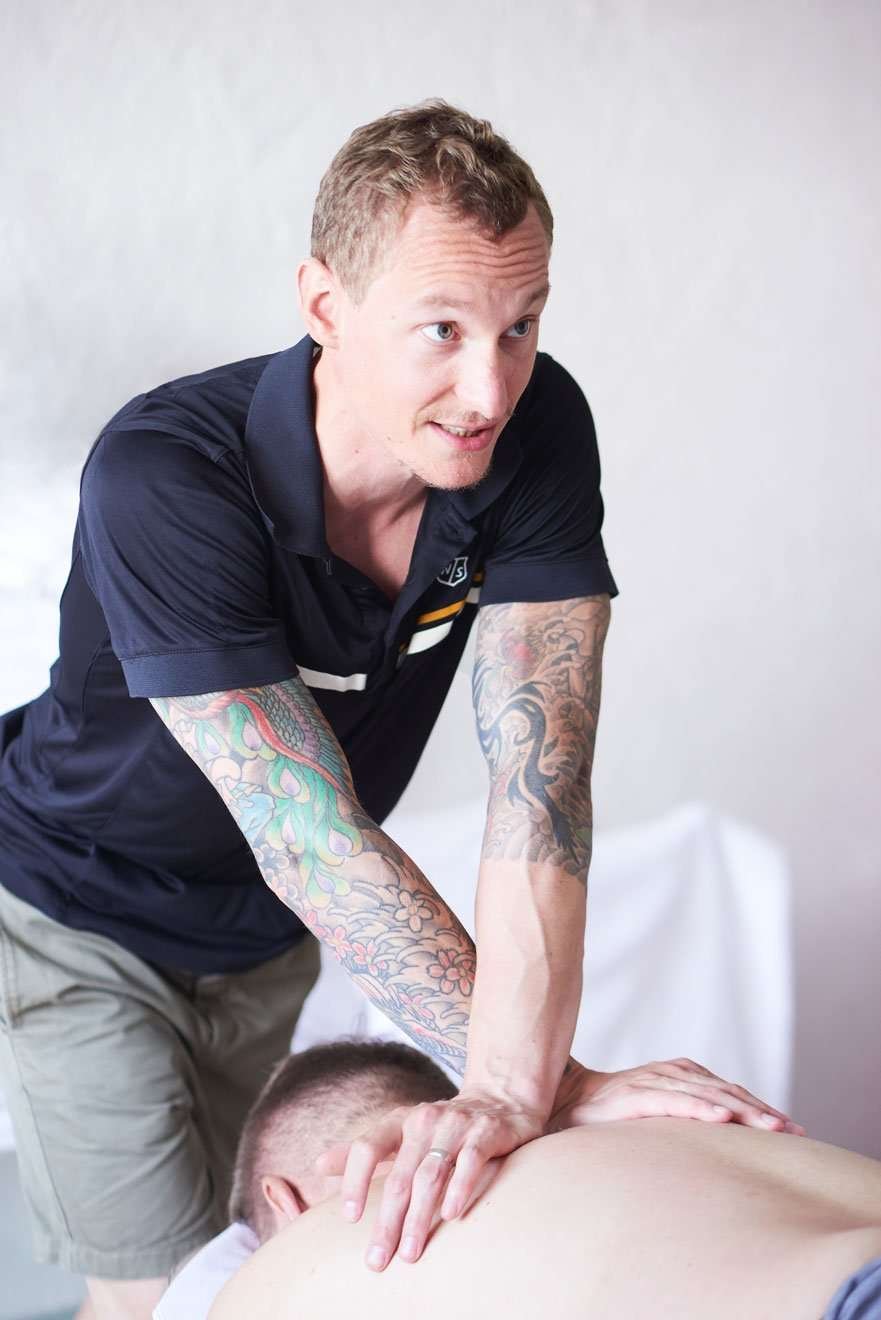 Is a specialization in assessment and treatment for individuals with dysfunctions in the neuro-musculoskeletal system. As a OMT -therapist you need a degree in physical therapy, plus the 3 years of OMT education. As a OMT physical therapist I use various manual therapy modalities such as spinal and peripheral joint mobilization and manipulation as well as different mobilization techniques for the nervous system. I use specific soft tissue mobilization and manipulation techniques, such as fascial release techniques, trigger point therapy, and I also use acupuncture in my clinic as a part of my treatments. Prescribing programs of musculature training is also a big part of the therapy, in order to get the best results. Common ailments that I treat are: lower back pain, neck pain, different kind of headaches, TMJ -dissorders, golfers/tennis elbow, runners/jumpers knee and different kind of shoulder pain. I treat both acute and long-term disfynctions with excellent results.
Prices: 60 min 77€ / 700kr

Hypnotherapy
In hypnotherapy we are working with your emotions to find out what's blocking you in your everyday life, such as feelings of anger/sadness or fears. We together create the New You via getting rid of the emotional triggers and blocks that manifest in your life in many ways. We are working mainly with your subconscious and unconscious mind because these are the parts of our mind that stores the greatest amount of information. Did you know that about 96% of our daily routines and habits come from our subconscious mind? Meaning, your mind controls more of your life that you are even aware of. This therapy form can be done either remotely online or at my clinic.

Healing
Healing is a very deep and effective way to treat all kinds of challenges; both physical, emotional, and spiritual. We will dive deep in order to find out the root cause of the reason you want to heal, so that you can live the life you always dreamt of. This therapy form can be done remotely or in my clinic or as a hybrid version. Book a free consultation call with me to find out which healing program fits for you or book a one time healing session here.
Prices:
1,5h Individual Healing session 111€ /1111kr
Heal the Whole You, 4 times 444€ / 4444kr
Recreate Your Life inside out, 8 times 888€ / 8888kr
Ask for payment plan if needed.
Since your last treatment my back has been totally without any symptoms. You really made magic. I could run 45 minutes without any pain, and it didn't even hurt afterwards. I canceled my appointment for next week since there is no need to come!
I had been feeling low for a long time, and it was this unexplainable feeling of sadness. I was doing the mistakes again and again, I was stuck. Marcus helped me in a way that I could safely confront traumas from my childhood, and he helped me to understand the big picture of the whole. Finally I could forgive myself and the others involved. Now I feel total peace within me, and I feel safe. The most important, I can live more in the NOW and I feel love towards myself and others. I highly recommend Marcus."
"Marcus har behandlat min nedre rygg med en kombination manuella tekniker och akupunktur. Vi har tillsammans planerat passande motionsrörelser som komplement till behandlingarna, och jag har därvia kunnat hålla mina besvär bra I styr. Jag rekommenderar Marcus varmt som terapeut, hans behandlingar är effektiva, och de komplementerande motionsteknikerna har lärt mig att själv hålla min kropp I skick. Jag har aldrig tidigare stretchat eller gymnastiserat, men har nu som en 50-åring insett viktigheten med kroppsvård, och Marcus har varit ett bra stöd däri."
Meeting Marcus has been one of the best things in my life according to my health. I have got the best possible treatment ever! Every time I meet him I can trust that I get very present, professional and safe treatment. He has very good energy and brilliant communication skills. I have had physical pain for years, and with Marcus we have gotten to the root of the problems and pains are healing one by one. It feels like my whole life is totally different now, like I have gotten a new, healthy start. I am so grateful for everything. I feel good in my body and I can say that I like my body again.
"Marcus har en utmärkt förmåga och erfarenhet att läsa av och identifiera problemområden samt behandla dem såväl fysiskt som att stödja den psykiska delen av rehabilitering. Han har ett positivt och yrkesmässigt förhållningssätt till sin profession och jag uppskattar verkligen den hjälp jag fått genom rehabiliteringen."
"Tulin Marcuksen potilaaksi vaikean polvilumpiomurtuman jälkeen, reilu 3 kuukautta tapaturmasta. Kuntoutus oli alkanut 6 viikkoa leikkauksesta mutta edistyminen oli ollut hidasta. Polveni oli tosi jäykkä eikä taipunut riittävästi. Sain vinkin Marcuksesta ystävältäni ja heti ensi käynnistä lähtien tunsin, että Marcus pystyy hoitamaan minua kokonaisvaltaisesti. Hän sekä ohjasi tekemään oikeita harjoitusliikkeitä mutta myös käsitteli ja hoiti jalan lihaksia ja aukaisi jalan jumeja. Tärkeä osa hoitoa oli myös akupunktio. Kuntoutumiseni edistyi joka kerta Marcuksen käsittelyn jälkeen ja nyt uskon itsekin, että jalkani toipuu täysin normaaliksi. Olen tästä hoidosta ja tuesta Marcukselle äärimmäisen kiitollinen."
"Kolme vuoden aikana (2019 – 2022) olen käynyt kahdesti kuukaudessa Marcus Englundin holistisessa hoidossa. Marcuksen yli 10 vuoden kokemus potilastyöstä heijastuu positiivisesti hänen kykyynsä manipuloida kehoa. Marcus tuntee ihmisen anatomian ja fysiologian erittäin hyvin ja tämän lisäksi hänellä on hyvä kyky lukea myös hoidettavan potilaan sen hetkistä mielentilaa, joten hoidosta tulee myös mentaalisesti positiivinen ja parantava."
"Kävin Marcuksen fysioterapiassa puolentoista vuoden ajan tapaturman jälkeen kroonistuneen selkäkivun ja hermosäryn takia. Kipu oli uusiutunut monta kertaa, enkä pahimmillaan pystynyt lainkaan istumaan. Sain nopeasti avun vaikeimpaan kipuun, liikkuvuutta edistäviä harjoituksia ja vinkkejä miten edistää toipumista kotona. Marcuksella on loistava asenne, hän on ammattimainen, lämmin ja kannustava. Kertaakaan en tuntenut, että paranemista tarvitsee suorittaa, vaan se sai ottaa oman aikansa. Jokaisen hoitokerran jälkeen selkä on ollut parempi, ja olen pystynyt palaamaan vanhoihin harrastuksiini. Lämmin kiitos!"
"Minulla todettiin alaselässä kaksi välilevyn pullistumaa ja alkava selkärangan rappeuma. Selkäni oli todella kipeä, jäykkä ja luulin etten pysty enää urheilemaan ja elämään normaalisti. Minulle suositeltiin OMT-fysioterapiaa ja hakeuduin Marcuksen vastaanotolle. Muutaman kerran jälkeen sain jo huomattavaa apua selkääni ja kotona ohjeistetuista treeneistä oli myös iso hyöty. Marcus on hyvin perusteellinen, huomaavainen ja ammattitaitoinen työssään. Joka käynnin alussa kävimme aina läpi selkäni tilan. Selän hoidon aikana hän varmistaa jatkuvasti, ettei ole kipuja tai epämiellyttäviä tuntemuksia. Hoitojen jälkeen hän huolellisesti demonstroi treenien liikkeet kotiin. Marcus on yksi taitavimpia ja avuliaimpia fysioterapeutteja, jonka vastaanotolla olen koskaan käynyt."
"I participated in an incredible inner healing journey with Marcus. I had already begun a pretty painful personal processes and was quite burned out. What came as a surprise was the amazing data that would come through Marcus, and what information this would reveal. Most incredible images and messages would appear during treatment and give clear messages and advice in a deeply personal level. Marcus also taught practices on how to look after my own balance. He has extensive knowledge on body's energy centers, and he could explain to detail what was going on with my body. The process brought up issues I have tried to escape from for a long time. What came very clear was how my body was reacting to my own belief systems and how I could change that. I am so very grateful Marcus walked me through some powerful lessons with so much caring and love."
Tämä on ollut minun terveyden ja hyvinvoinnin kannalta yksi parhaimmista löydöistä. Olen saanut vastaanottaa varmasti parasta apua ja hoitoa mitä olla voi. Voin luottaa siihen, että saan oikeasti kuuntelevaa, tutkivaa, todella asiantuntevaa ja turvallista hoitoa. Hyvällä energialla, vuorovaikutuksella ja kokonaisuuden huomioivalla tavalla. Jokainen käynti on tuottanut tulosta ja vuosien ajan olleet kivut ovat yksi kerrallaan helpottaneet. Koko elämä on saanut uuden suunnan, aivan kuin olisin saanut uuden alun, uuden mahdollisuuden elää jälleen terveessä, toimivassa ja liikkuvassa kehossa. En voisi olla kiitollisempi avusta mitä olen Marcukselta saanut. Voin kokonaisvaltaisesti paremmin ja pidän tästä kehostani taas.
Kärsin viisaudenhammasleikkauksen jälkeen leikkausalueen hermojen herkistymisestä lähemmäs kaksi vuotta, ja tämä aiheutti kasvojen ja leuan alueelle ajoittain erittäin kovaakin kipua. Kokeiltuani useita eri hoitomuotoja, päädyin Marcuksen vastaanotolle kokeilemaan viimeisenä keinona akupunktiota. Jo kolmen hoitokerran jälkeen kasvojen alueen kivut hävisivät, mikä oli pitkän aikaa kivun kanssa kamppailtuani minulle suuri yllätys. Lisäksi koin akupunktion auttaneen myös yleisesti unen laatuun ja stressitasoon. Kiitos Marcukselle asiantuntevasta ja erinomaisesta hoidosta!
Hoito oli kehollisesti tosi voimakas. Tuntui kuin olisin leijunut ilmassa lähes koko hoidon ajan. Aivan kuin olisin ollut hiukkasia ja minun läpi olisi virrannut vettä. 1. ja 2. chakra aktivoituivat voimakkaasti ja tunsin kuumuutta. 3. chakra tuntui osittain jotenkin virtaamattomalta, toisin kuin muuta chakrat. Silmät rentoutuivat aiemmin kokemattomalla tavalla. Ajatukset katosivat melkein kokonaan hoidon ajaksi, mutta hoidon jälkeen on syntynyt paljon uutta ja oivaltavaa. Mieli ja keho ovat olleet rauhallisemmat hoidon jälkeen. Voimaa ja selkeyttä on ollut enemmän. Levollinen ja kiitollinen olo.
is a rebel soul, who hates rules. She is a spiritual teacher and sees herself as a bridge between the spiritual and physical realm.
She helps you to be your true authentic self so that you can ignite your divine purpose here on Earth. She is a fierce Spiritual Mentor, Kundalini Yoga teacher, Reiki Master and a published Author. She will help you HEAL, to be FREE from others' opinions, to open your heart. The best part is that YOU get to be the real you, no need to pretend anything you are not. Kirsi loves luxury, sparkling wine and to have fun. Besides English Kirsi speaks fluently Finnish and Swedish.
She is also training new Reiki Healers into this world. Level 1 training coming up in Finnish in September and in English in October. Check more info HERE
Interested in Yoga? Kirsi has created an own intuitive style of teaching Kundalini Yoga, she calls it "Inner Flow", read more about below.
Get her newest BOOK 'Open Your F*cking Heart' here!

Intuitive coaching
Do you LOVE what you do?
Do you feel like there is something BIGGER waiting for you?
Do you want to discover your PURPOSE?
I am here to help you find your true calling in life, your POTENTIAL. Together we will find out WHY you are here.
I will walk beside you and empower you when you need the courage to take the first steps. I will push you towards your goals, but with gentle touch and joy. I will teach you all the tools you need to be your own coach. My passion is to help you to find your place in the world and help you get there. Time to wake up! No more fooling around.

My approach is always intuitive and we work a lot with energy, since in the end, everything is energy, so are you and your thoughts and beliefs. You are the creator of your life and the good news is that you have the power in YOU to change your life the way you want to. 
The question is, are you willing to take resbonsibility of your life, to be the boss?
Read more about her COACHING here.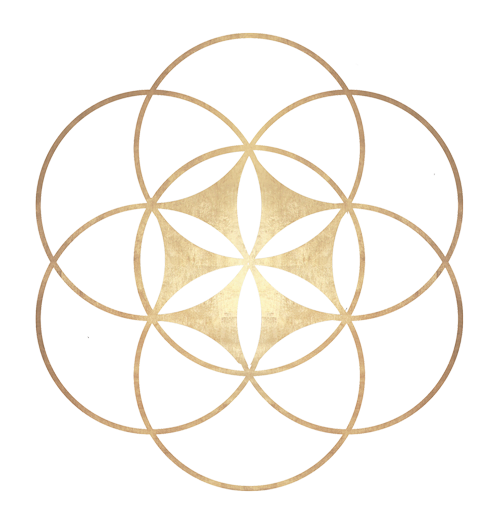 Inner Flow
Inner Flow is a yoga style created by Kirsi, it has its roots in Kundalini Yoga, which is one the oldest yoga-traditions in the world. Kirsi taught traditional Kundalini Yoga over 4 years in her own yoga studio, but in 2021 she was guided to deepen her approach and start to teach in more intuitive way – Inner Flow was born.
Inner Flow has all the four elements in it; Earth, Water, Air and Fire. The class starts with connecting with the Earth and grounding your bodymind. Then we move up to the element of water and do nice flowing exercises that especially warms up your spine. This is really important, since your spine is a key to your wellbeing, both in physical and spiritual plane.
Next we connect with our own power, the inner fire inside us. To awaken the inner flame we do exercises that empower you and makes you physically strong.
We finish up with the element of air, which means breathing exercises and a mantra meditation. The element of Air connects us with our voice which holds our potential and healing power. The class ends with a long relaxation.
Inner Flow classes (75min) via ZOOM
On FRIDAYS at 9:00AM CET
The class is in English, however, can be translated in Swedish/Finnish if needed.
Price 15€/150kr per class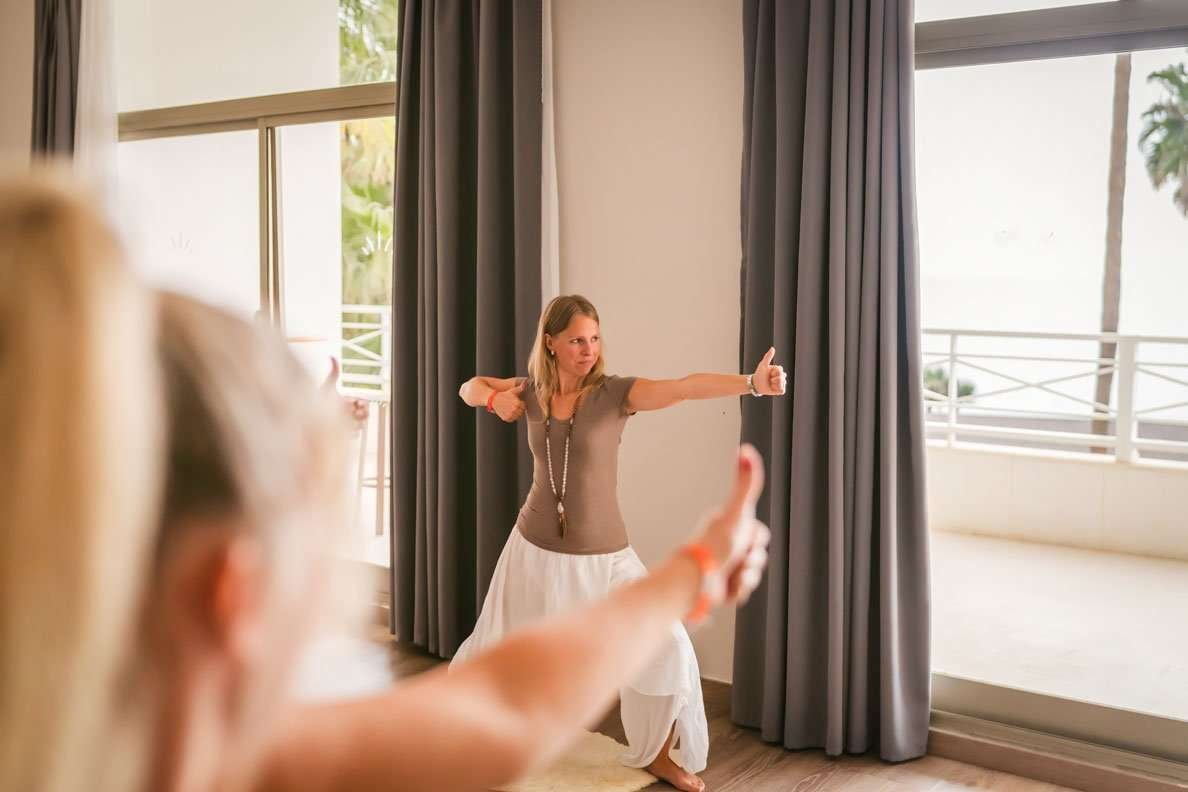 My coaching session with Kirsi was a very deep experience. She is a brilliant and very intuitive coach and took me through a closed-eyes process which appeared to me as a fairytale that I now embody and can use whenever I need it. It is very easy to be open and honest with Kirsi as my coach and she helps me connecting with a higher version of myself. This coaching session took place in the morning, and when I met my mother after the session, she told me that my face looked different and more relaxed. After the session I was filled with a lot of energy and even if it was a very busy day, everything happened with ease, grace and flow and I felt a lot of joy. And the most important thing is that I now know myself so much better than before the session and know exactly what I need to work on
"I do not think I have ever gone from a state of being simply fine to start crying because of a question. I had a blockage which I was not able to find on my own. And the funniest thing is that we had just started when it came up.
And again, in addition to this breakthrough, I also had the opportunity to sort out, express and manifest my development. Thus, I know where I am at in my life right now and really look forward to working more with Kirsi because I am so much more conscious of my own intentions and the way this inner work is pivotal for the results and achievements in my life."
I'm so grateful for all the support, encouragement and inspiration I received from Kirsi for me to be able to discover my true self, my uniqueness and courage to follow my heart to fulfill my dreams.. Kirsi is a true inspiration, full of enthusiasm and knows how to ask the right questions for you to find the answers within. Each coaching session always took me a step closer to finding my path and the additional support between the sessions as and when I needed it, made me feel that I was never alone on this journey.
I love the combined calmness and lovely energy of the sessions with Kirsi. It always feels like a very comforting and good-vibe space to be in and Kirsi always guides the session in a good way -asking many questions and together we ponder my answers and I get the feeling that with every session I learn something new about myself.
She was able to strategically bring me through the process and as a result, I uncovered a childhood memory that held emotions of guilt, fear and expectation. It honestly was so powerful that it brought me to tears unexpectedly. We were able to move forward and by the end of the half hour, we had a few items that I can work on in order to accelerate the timeline of my higher self. The session was focused and super effective. I enjoyed it so much. Thank you.
Kirsi has a good energy around her, which makes it easy to talk to her and trust her. She listened fully focused on me and my needs and had some really great insights to share. I feel like I already discovered new things about myself from just this one session. Kirsi had good questions, thoughts and exercises to lead the way.
An amazing journey truly finding my way how to 'Be me & rock the world'! The daily themes over 21 days guided me through to open up my mind to possibilities and deal with my fears and beliefs as well as learning to trust my intuition. The morning routine helped me to start my day with calmness and gratefulness which I continue to practice every day. I'm so excited to continue to follow my path towards my purpose – and rocking the world together!
Viimeinen sessio kanssasi löi mut ihan ällikällä. Edes mun pitkäaikainen psykoterapeutti ei saanut minua uskomaan, että tämä kyseinen kauhea fiilis kuuluisi mulle. Terapeutti puhui traumatakaumasta, mutta itse olin sitä mieltä, että tämä tuli tunnesiirtymänä. Kiiitos Kiitos Kiitos että "pakotit" siis uskalsit mua haastaa. Kyseessä oli siis mun suurin ja ensimmäinen trauma, äidin kuolema. Nyt voin lähteä tutustamaan vielä itseeni uudestaan. Olen niiiiiiin kiitollinen sulle❤️wau mitkä työkalut sulla onkin käytössä.
Yksi parhaimmista verkkokursseista mihin olen osallistunut. Todella hyvin tehty kokonaisuus! Yksi viikko aina yhtä chakraa kerrallaan läpikäyden mahdollistaa syventymisen kunnolla ja perusteellisesti. Sunnuntaina jo odotin innolla maanantaina avautuvaa seuraavan chakraviikon ohjeita, oppimista ja kokeiluja taas kohti uusia asioita! Jokaisesta chakraviikosta otin yhden tai useamman tavan, joka/jotka on jääneet arkeeni tavaksi tehdä. Esimerkkinä joka-aamuinen lyhyt meditaatio ja energian puhdistus. Samoin siunaan ja kiitän veden aina ennen sen juomista. Monta orastavaa riitaa miesystäväni  kanssa olen saanut hallittua painamalla  jalat tiukasti lattiaan javoimakas puhallus päälle. Olenpa pystynyt jopa poistamaan kivun hengittämällä ja visualisoimalla parantavaa väriä kohteeseen!.
Alkuun tuntui, että tämän 21 päivän aikana tuli tehtyä sellainen matka etten osaa kuvata. Ja vähän hämillään, kun loppua kohti kaaos ympärilläni vaan lisääntyi. Ja yhtäkkiä tajusin, että tämähän se paras kasvu on! Ympäristöllä ei ole väliä, vaan sillä mitä tunnen sisällä! Olen New Me kaaoksessa ja haasteissa, en anna niiden vaikuttaa muhun, vaan sisälläni on rauha ja onnellisuus olosuhteista huolimatta. Ja miten tämä muutos onnistui? Sillä, että tällä kurssilla VIHDOIN PÄÄSTIN IRTI VANHASTA, KAIKESTA TODELLA LOPULLISESTI. Sukupolvien rasitteista, oman aiemman elämän rasitteista. Mä ihan tunnen fyysisesti keveyden, että karmarepusta lähti nyt lopullisesti pois asioita. Kiitos; opin ja ymmärsin, miksi toistan tiettyjä kaavoja. New Me ei yritä pakottaa asioita. New Me ei huolehdi miten asiat järjestyy. Luotan, että kaikki menee kuten on tarkoitettu. Hyväksyn keskeneräisyyteni siitä, että alkuun hermostuin kaikesta todella ja negatiiviset ajatukset valtasivat minut. Kuinka Ihanaa olikaan hengitellä ne ulos ja hymyillä sen jälkeen. Kurssin tärkein oivallus oli, että hyväksyin itseni ja tilanteeni juuri tällaisena ehkä ekaa kertaa OIKEASTI.

Interested in New Earth Money?
We have been into Crypto space for two years now, and we have so much we would like to share with you!
Read more about our Golden Crypto Family here.